Travel Makeup Pouch Set Toiletries Bag Cosmetic Organizer Pouch
Rs. 1,499.00
Rs. 1,999.00
-26% OFF
Color
Pink
Black
Blue
White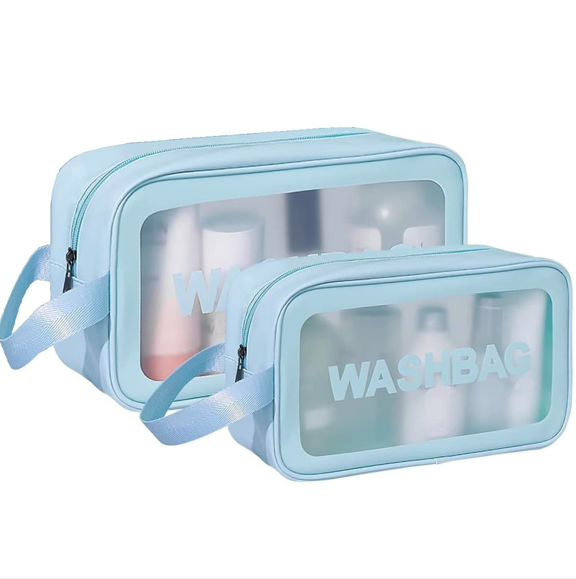 Introducing the "Travel Makeup Pouch Set Toiletries Bag Cosmetic Organizer"  your ultimate travel companion for keeping your essentials organized and accessible. This well-designed product boasts a range of features to make your life easier on the go:


Material Features:
- Crafted from high-quality waterproof PVC material, this clear toiletry bag is not only durable but also lightweight, ensuring it stands up to the rigors of travel.
- Its excellent abrasion resistance means it can endure the hustle and bustle of your journeys.
- The waterproof material makes it easy to clean and quick to dry, perfect for keeping your items safe and hygienic.
- High resistance to insects, animals, mold, rot, and chemicals ensures your valuables are well-protected.
- Protects your items from dust and scratches, so you can trust that your essentials are safe and secure.


Easy to Carry:
- Featuring a convenient zipper closure and a wrist strap, this cosmetic bag is a breeze to carry and hang up.
- Its lightweight design makes it an ideal addition to your carry-on bags, backpacks, or luggage, ensuring you're always well-prepared.


Intimate Design:
- The added handle offers even more convenience, making it easy to hang and carry.
- The transparent PVC material allows you to easily identify your items, simplifying the organization and access process.
- With a smooth zipper design on the top, there's no need to worry about items falling out of the bag.


Multifunctional Storage Bag:
- This versatile bag can be used as a cosmetic bag, skin care product bag, wash bag, medicine bag, and even a toy storage bag, adapting to your various needs.
- Perfect for both travel and business trips, it's a reliable choice for keeping your essentials in order.


Product Specifications:
- Plastic Type: PVC
- Product: Storage Organizer
- Applicable Space: Bathroom, Camping, Travel
- Fabric Type: Polyester
- Plant Fiber Type: Wicker
- Type: Storage Bags
- Material: Polyester
- Use: Bag, Travel, Tools, Bathroom, Cleaning


Wide Range of Uses:
- The Travel Makeup Pouch Set Toiletries Bag Cosmetic Organizer is versatile and perfect for a variety of items. It's ideal for cosmetics, toiletries, baby products, electronics, school supplies like crayons, arts and crafts supplies, and more.
- Whether for daily use or travel, this pouch serves as your dependable clear makeup bag, ensuring everything you need is right at your fingertips.


In summary, the "Travel Makeup Pouch Set Toiletries Bag Cosmetic Organizer" is a must-have for anyone on the move. Its durable, convenient, and versatile design makes it an essential addition to your travel gear, keeping your essentials organized, accessible, and protected.
Say goodbye to the hassle of searching for your items – this pouch has got you covered.
Hey, check out our Youtube!
#Be More of You with Inkmilan